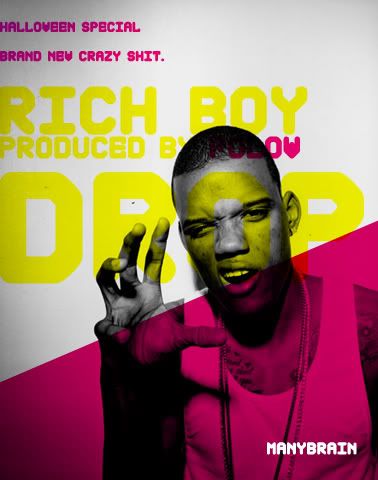 Rich Boy - Drop (Prod. by Polow)
Thanks Bangladesh, you've officially turned rap into MDMA Nightmare music.
So peoples, turn all the pansy bitchmade shit you may be listening to at the moment, turn the auto-tune off for just one second, and man the fuck up. Polow kind of straight bit A Milli for this one, but turned it on its head and made it a Halloween anthem, or something like that. We just know it fucks with our heads.
this one is apparently off of Rich Boy's upcomming record, 5 Million. Polow interjects quite a bit over the beat, on some Fleetwood Mac-state of mind.
more richboy for halloween:
Rich Boy - Monsta
Also produced by Polow, this one is off of the Bigger than the Mayor mixtape from last year, play it at your halloween party or just rock it in your whip.
we been posting a lot on the blog lately. a lot of dope shit is popping!
if you got shit to send us, don't hesitate. and also, DO NOT sleep on the two exclusives we got this week (
Dema
and
Fineart
) joints are still on heavy rotation here.