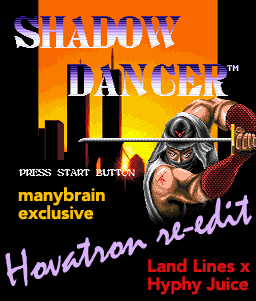 re-edited this gem off the amazing upcoming
Shadow Dancer
full-length coming out on
Boys Noize Records
, the album is called Golden Traxxe, this track is Land Lines... slowed it down, chopped up a bunch of parts, threw in that always trustworthy acapella, lets gooooo. Boys Noize Records is killing it right now. Shadow Dancer, Siriusmo and Djedjotronic are THEM DUDES, DON'T SLEEP FOLKS.
Shadow Dancer - Land Lines (Hovatron Sideshow Edit)
definitely on a clubbier tip, geez, sorry dudes my last two contributions been soft.
For some harder shit,
my joint with FLOWDAN
is up on
the Low Riders myspace
, as I will be PLAYING THEIR PARTY in just over a week to kick off a retarded week or partying, travel and brand new exciting and perhaps scary experiences. Peep the
hovaspace
for the dates and make sure to check it out if you happen to reside in any of the cities I'll be visiting, please say hello.
I'll give more in-depths details on going-ons soon enough, trying to make moves, always, for our respective music endeavors but also for this family / blog / dare I say collective?
speaking of going dumb with like-minded individuals, SUPER AQUA CLUB IS THIS WEEKEND.
don't sleep.
sorry for the lengthy post. trying to make them more regular and short, but, shieieieiet, life happens.